"We should all be feminists"
Rare insights into how the Chancellor thinks: During an event with writer Chimamanda Ngozi Adichie, Angela Merkel takes stock of her time as chancellor – and speaks about her future.
A federal chancellor who enjoys reading literature, and a bestselling Nigerian writer who thinks like a politician – what unites the two of them, and how are they different? Is there a common narrative where they can find each other?
Angela Merkel and Chimamanda Ngozi Adichie met at an event at Schauspielhaus Düsseldorf, moderated by ada founders Miriam Meckel and Léa Steinacker. The interview has been edited for length and clarity. 
Madame Chancellor, you campaigned for a fourth term in 2017, in part to prevent a democratic vacuum in the west. Did it work?

Angela Merkel: I was delighted to be able to work in a democratic society as the federal chancellor and I have always stood up for liberal values. But one ought to be very careful not to overestimate one's own weight and importance. I'm not the only one; fortunately there are a many people who are committed to democracy.

But can you leave office in the coming months with a clear conscience?

Merkel: Yes.

No ifs, ands, or buts?

Merkel: I think I have made my contribution. And those who haven't understood it by now will not understand in the next four years, either. 

Ms. Adichie, we've just witnessed the disturbing withdrawal of the U.S. from Afghanistan, we are watching China strive for world dominance, war-mongering in North Africa – do you understand the chancellor's point of view, that she can leave office with a clear conscience?

Chimamanda Ngozi Adichie: I think it's good that the chancellor is leaving office with a good conscience. But I have little peace of mind when I imagine the world without this chancellor. I'm worried about what will happen to Europe, which she has held together. And I worry about a world with even less leadership than is already the case today.

Ms. Merkel, the former federal constitutional judge Ernst-Wolfgang Böckenförde said: "The liberal, secular state lives on preconditions that it cannot guarantee itself." What conclusions do you draw from this in 2021?

Merkel: I think what Böckenförde meant is that it takes much more than politics to preserve democracy. We need culture, philosophy, religion, history. When all of that is not flourishing, then it is often very difficult to keep a society together. It requires a certain sense of community. There are some things we cannot just decree. We can't instruct people to obey the law, or to volunteer for social causes – these things happen as a result of a certain view of the world. Politics and politicians can prepare the ground by creating incentives, but politics cannot force it to come into being.

Ms. Adichie, are you worried democracy's freedoms are being used against democracy itself?

Adichie: I think the people who flock to illiberal politicians are looking for an outlet for their dissatisfaction. I believe an educated and well informed electorate helps guard against this, because otherwise it will always be easy to manipulate people. If we are informed individuals and know how to get to the truth, then we have already gained a lot.

Ms. Merkel, Ms. Adichie said in a TED talk, "Power is the ability not just to tell the story of another person, but to make it the definitive story of that person." That sounds like what's happening in the current election campaign in Germany, doesn't it?

Merkel: No, I wouldn't say that.

But is it about the issues facing the country?

Merkel: Of course it's about issues.

Enough?

Merkel: Whether there's enough discussion about the issues is another thing. Politicians have to respond to the questions that they are being asked. But the televised debates are taking place now, where citizens have their say and can ask the politicians about the issues that are important to them. It's at events like these that the issues are discussed. But Ms. Adichie's definition of power is not bad at all, I like it.

Do you think social media have an effect on whether we talk about politics or whether we just stick to one-sided stories?

Adichie: Social media platforms, as much as I appreciate them as a good way to protest and articulate one's views, have become a place for people who prefer performative, shallow discourse. And that's true on both ends of the political spectrum. Also on the political Left, which is where I very much feel I belong. The volume of the moralizing is not good. We have to take the risk of engaging in critical, contradictory discussion. I have to know what other people think in order to know whether my position makes sense or not. For that, I need to hear other opinions – and not more of my own.

Do you have any use for the term, "cancel culture," Ms. Merkel?

Merkel: Not really. What is important to me is to see every person in all their complexity. Our constitution places the dignity of every human being in the center and declares it to be inviolable. And sometimes it is neglected by people who attend a very one-dimensional view of it. We have to talk to other people, and put ourselves in their shoes, and ask ourselves what makes him or her hold this particular view. Then you can have a genuine interchange and exchange of views. The danger that might run with respect to communication through social media, which of course is a reality, is that it's driven by clicks. Those who attract the most attention are usually the ones broadcasting bad news, or gloating, or trolling; not the video about a mission by the fire brigade or the technical relief agency, who do a lot to see our society succeed. People also want to hear success stories. If you're exclusively confronted with all of these failures, all the bad news, I think it will be doing damage to your soul.

Your critics accuse you of facilitating the rise of the AfD and the increasing xenophobia in Germany with your refugee policy and the sentence, "We can do this." What do you say to them?

Merkel: Well, I beg to differ. There's really nothing special about that sentence. It was only something special in that given situation. I said it because I was quite aware of this being a major task we had to tackle. I thought one had to inject a sense of optimism into the matter.

Ms. Adichie, what was your take on that period around 2015 and the role Germany played?

Adichie: I thought that was very inspiring. When the chancellor said she didn't want to participate in a competition to see which country treats refugees the worst... Did you really say that?

Merkel: More or less.

Adichie: That's when it became clear to me: I like the chancellor's idea of politics. Standing on principles, and saying, This is a country that can afford to be humane. And acting on it, too. It's important for Europe to take moral responsibility for other parts of the world, especially parts of the world in which Europe meddled in the past. Because we are human, we deserve dignity.

Madame Chancellor, time and again the media has mentioned Africa as being your "continent of destiny." What does that mean for you?

Merkel: I'm fascinated by Africa. 54 countries with very different traditions. It's such a young continent. In many countries in Africa, the average age is 19. There's such a young spirit there. It saddens me sometimes that so few African countries experience sufficient economic growth. But I also believe that these countries have enormous potential. That's why I started the "Compact with Africa" initiative within the G20 – I insisted on it being called with Africa, not for Africa. We have to watch out that we don't come across like those who say, Don't make this mistake, or that one. The countries of Africa have a right to pursue their own path.

Angela Merkel and Chimamanda Ngozi Adichie. Image: Melanie Zanin
Ms. Adichie, one of your most often-quoted sentences is, "We should all be feminists." Has your attitude toward this term changed in any way?

Adichie: For a long time, the word has been politicized, and loaded with many negative stereotypes. But for me, feminism is a belief system based on fairness, a justice movement in the sense that woman and men are equal. We actually know that, and yet I don't think there is any place in the world where we have full equality between men and women.

Madame Chancellor, you said in an interview in 2017 that you wouldn't call yourself a feminist because you didn't want to "adorn yourself with borrowed plumes." Is that still valid?

Merkel: For me, too, the term feminism is linked to a particular movement that stood up to fight for women's rights. That's why I said I don't want to adorn myself with "borrowed plumes". During that discussion, Queen Maxima of the Netherlands opened a door for me when she said, basically it's about men and women being equal and should have an equal share in participating in our lives. – Back then, I was somewhat shy about making that point up on stage. Today, I've given it more thought. And in that sense I can say, Yes, we should all be feminists.

Ms. Adichie, your new book has just been published, "Notes on Grief," in which you say grief is the good fortune to have loved. You lost your parents last year, during the lockdown. How did you experience grief in this isolation?

Adichie: My father died last June, in the middle of the lockdown. I was in the United States; he was in Nigeria. I couldn't be with him. When you witness loss, the first reaction is denial, not wanting to believe it. It didn't feel real. I woke up the next morning and asked myself, Did that really happen? Then my mother died a few months later, on my father's birthday. It was like a bad plot twist in a bad novel. But with her, the distance was less because I was in Nigeria. There I just felt horrible pain.

And what did you learn about love in your grief?

Adichie: Grief is love. If you have not loved, you cannot grieve.

Madame Chancellor, your mother passed away in April 2019. Do these words from Ms. Adichie resonate with you?

Merkel: I can find a lot of meaning in that. Only a person who has loved can experience grief. That's the response to not having that person there for you anymore.

Is there room for mourning in a chancellor's everyday life?

Merkel: Of course it's a difficult situation. It is very private. You have to create your own sphere. I've always made sure that I had a certain sphere where I didn't allow anyone in who did not belong there.

Ms. Adichie, what do you think of the idea of building a space for grief?

Adichie: I understand that. However, I sometimes found it comforting to not be private with my grief. I read social media posts while lying in bed, crying. I was so moved and also strengthened by the level of sympathy. They were people who understood what I was feeling. In that sense, the publicity helped me. I felt lighter.

Merkel: When I said I had to create a certain sphere, I didn't mean I didn't talk to anyone about it. But to tackle this you need your space, and political activities is not the place.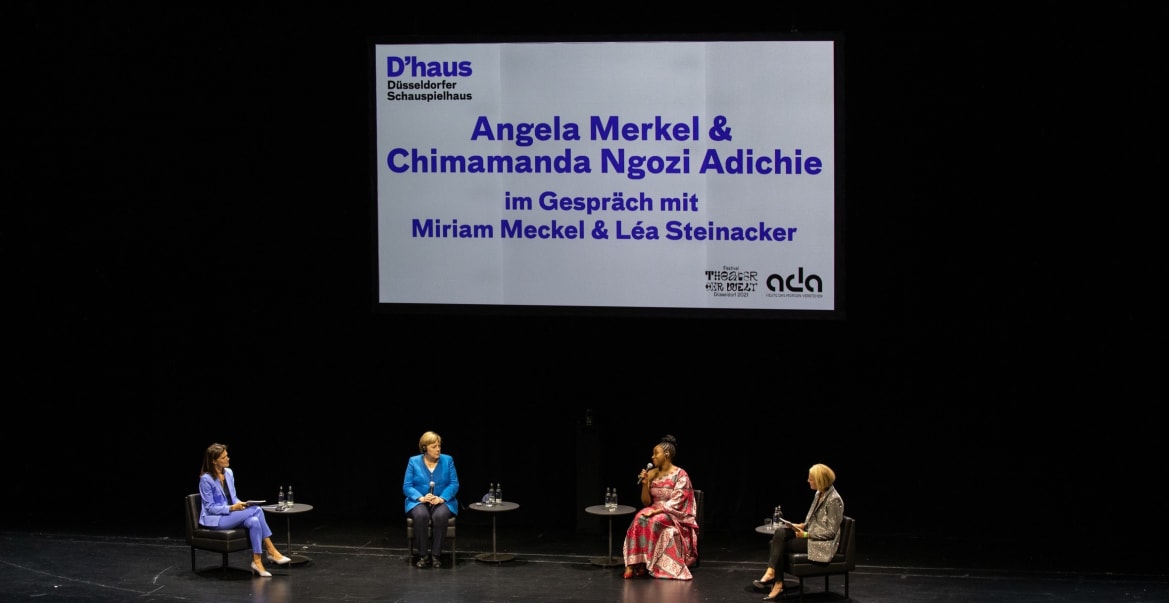 Angela Merkel and Chimamanda Ngozi Adichie with interviewer Léa Steinacker (left) and Miriam Meckel (right). Image: Melanie Zanin
After the election you will be the first federal chancellor to step down of his or her own free will. What does autonomy mean to you?

Merkel: I was fortunate to have been elected and been able to form a government four times. Now it was clear to me that I was coming to the end of that part of my life and that the country needed something new and fresh. It's a very special experience to know you have to focus all day long today, and then all of a sudden there's a day when somebody else comes along. But every day I was chancellor, I had to be totally focused. There's an apocalyptic flood or the Afghanistan withdrawal, and nobody cares if it's 100 days until I step down. I'm still just as committed to my oath of office as on my first day in 2005.

When asked what you would do after handing over the office to your successor, you said, I will try to do some reading, "then my eyes will close because I'm so tired, then I'll sleep a bit, and then we'll see where I turn up." What will be your narrative after office?

Merkel: Honestly, I don't have a narrative. I live in the present, we should all focus more on living in the present. I engaged as a politician in late 1989. Ever since my life has developed in such a fascinating manner that I have never had a single normal working day again and have always been challenged in political terms. And in a way I've stopped thinking about what I might be interested in apart from politics. I'm 67, I don't have an infinite amount of time. I definitely want to consider very carefully about what I feel inside, and what I would like to do now.

Ms. Merkel, what would you like to ask Ms. Adichie?

Merkel: Are you afraid that people will lose the ability to read and will watch videos instead?

Adichie: Yes. But we could have both. We could live in a world where we watch Rezo videos, and also read.

Merkel: Rezo?

Adichie: Yes, the young person who makes exciting videos about politics.

Merkel: Oh, you know a lot about Germany's party history indeed.

Adichie: I find Germany fascinating in good and bad ways. But I am actually very concerned about reading. Reading is more autonomous, you can decide your own pace. A video forces you to just follow it.

And Ms. Adichie, what question would you like to ask Ms. Merkel?

Adichie: I would like to know when the burden felt the heaviest, carrying the responsibility for Europe on your shoulders?

Merkel: I think it felt heaviest during the euro crisis, when in the point of view of many I was very adamant about placing demands on Greece so they could receive assistance from us. Because I was deeply convinced we cannot have a common currency without a similar economic structure.

Adichie: And when did your responsibility bring you joy?

Merkel: Very often. Whenever we were able to find a compromise. When I became chancellor, the constitution for the European Union had just failed after two referendums in France and Ireland. Germany held the presidency at the time, and we did all the preparatory work for the Lisbon Treaty. That was a tremendous feeling of joy. Or when we found an answer to the pandemic by creating the European Recover Fund, after several days and nights, you're filled with joy that you have succeeded in getting all of that together.