"We need to be more playful at work"
Change can be overwhelming, especially in times of monumental shifts. A conversation between Miriam Meckel, Esther Perel and Angel Acosta hosted by Léa Steinacker about the constant reshaping of our world and how it impacts our mindfulness
In this roundtable discussion, world renowned psychologist Esther Perel, mindfulness & leadership specialist Dr. Angel Acosta, and communications professor Dr. Miriam Meckel examine the human condition in times of monumental shifts. They reflect on acts of self-preservation that we as individuals, organizations, and society need to take to survive and thrive during profound, constant change and the role leaders play in that process. They discuss the power of paradoxical versus binary thinking, upskilling your body to be somatically present, aliveness and playfulness in the workplace, and how to spread structural love in digital form. Léa Steinacker moderated the session. 
Léa Steinacker: Do we live in times of unprecedented, sweeping change or is that an illusion that every generation has?
Esther Perel: The latter. I do think that we live in a time of unprecedented change, but it's not the first time that it's happening. Many generations have felt that the world that we're living in is not the world that they once knew, and that the assumptions with which they regulate their lives are being questioned or sometimes even shattered. Whenever we ask that question, there is invariably somebody who says "But never has the planet been at such risk. Never have we faced the kind of self-destruction of humanity in the way that today it could all one day disappear." And I think that is the fundamental question. Everything else we have had: Wars, disasters, natural disasters, pandemics. We've had all of that. But we've never felt that we have reached a place by which we could annihilate ourselves to that extent.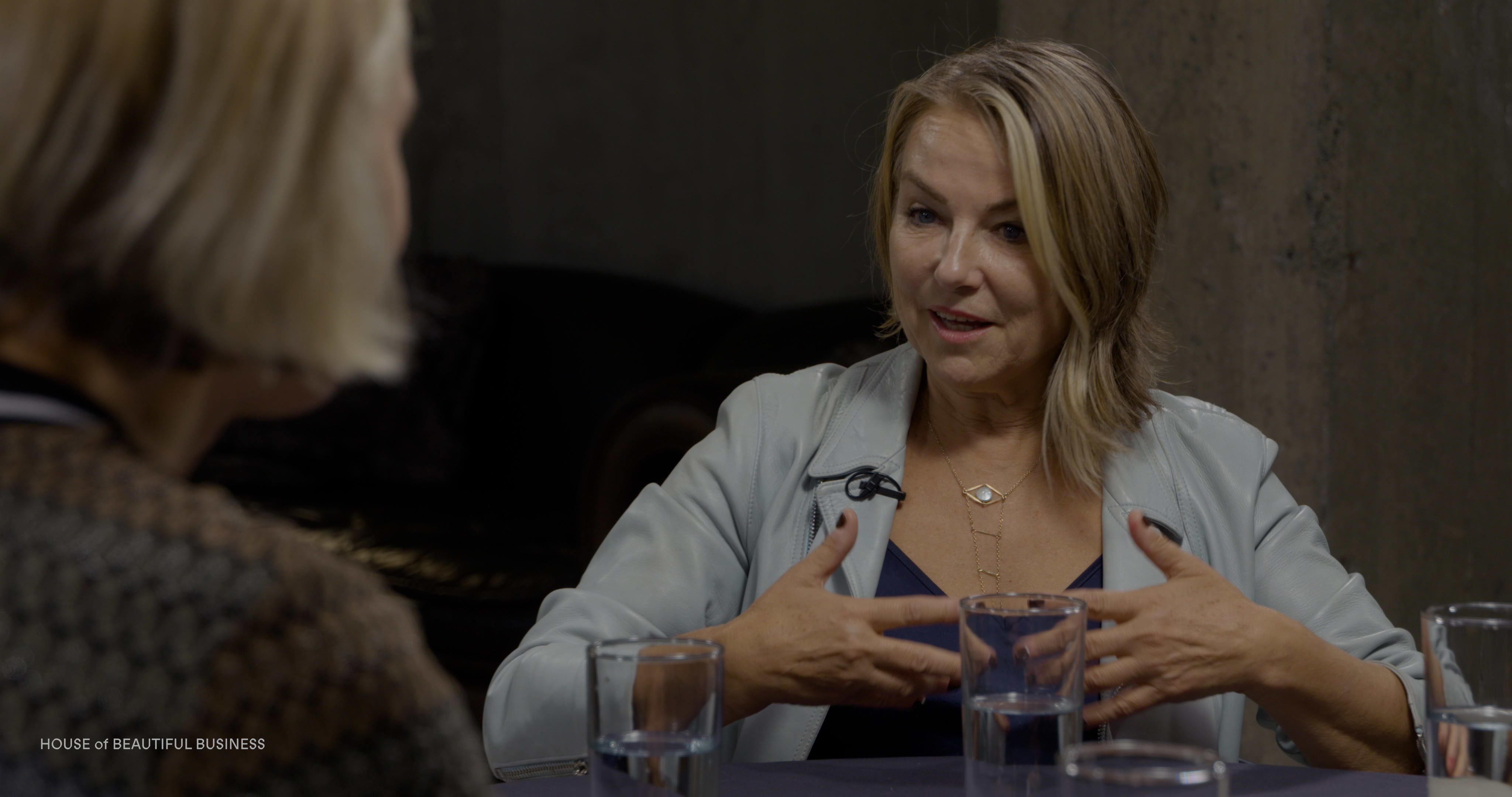 Is it just the eventual threat of annihilation or is it also about the increasing pace of change and that we feel like we can't keep up?

Angel Acosta: Yes, the pace of change has increased. And the concentrated impact of the last 400 years - looking at the connection between colonization, imperialism, the evolution of capitalism - has affected how we are relating to the planet to the point of possible annihilation. The byproducts of the industrial revolution and the information technology revolution of the last 20 years have impacted incredibly how we engage in our relationship building, our business management. But I think that there is this incredibly powerful moment for us to think about how we want to move forward. And part of what I want to do is slow us down. There has been an increase in change, and I think there needs to be an increase in the pace of us slowing down and relating to particular levels of self, other instances and the planet.
Are today's leaders allowed to be slow?
Miriam Meckel: They better be able to deal with becoming slower. Because if you just rush through transformation and change, you will lose people. You have to be a role model in figuring out how to find the balance between admitting uncertainty because things are in flux and offering solutions and ways of connecting to your teams. You really need to communicate a lot for people to come up with doubts, for them to be transparent about their fears and concerns. It's the challenge of accepting ambiguity.
Why does leaning into ambiguity tend to be so difficult for humans?
Esther Perel: Every living organism, every society, every couple, every organism in nature straddles ambiguity between stability and change. This is actually not new. If you don't change, you fossilize and you die. If you change too fast and too much, you dysregulated and you go into chaos. The typical thing that happens in the face of uncertainty is that I take one part of the equation and then others take the other part of the equation. This is the polarization that you see in society as well. We fragment, we polarize and then we can antagonize. And everyone in that antagonism presents themselves as if they are sure of their position, when in fact it is their anxiety that produces a false certainty.
Miriam Meckel: It relates to the binary logic of much technology, too. Computer science has brought binary thinking of the kind you just described: Zero or one, good or bad, black or white. And this turns ambiguity into a huge difficulty to deal with because somehow you think it must be one or the other, since that's how we process the digital world.  
Esther Perel: It's a different kind of knowledge. Data knowledge is binary knowledge which is an exlusive form of knowledge. But there is intuition. There is wisdom, tradition. There's lots of other forms of knowledge that are not included and those are knowledges that hold much more nuance and ambiguity.
Angel Acosta: If we can slow down enough where we can see the multiple dimensions of a given moment, then we can deal with a paradox, holding the binary and knowing that it's actually a more dynamic thing. In fact, in some of the last 10 years of research on workforce readiness, there was this obsession with the skills of the 21st century like teamwork, critical thinking, pro-social skills, forgiveness, collaboration. On the lower end of that list was conflict resolution and paradoxical thinking. And I think we need to bump those up. Dr. Bayo Komolafe talks about the idea of approaching our lives as composting. What would it mean for us to engage in a kind of composting in the way that we think, just letting it sit, letting it marinate.
Are conflict resolution and paradoxical thinking the most important skills in the face of an increasingly polarized world?
Esther Perel: Often when it comes to conflicts in relationships, I have to point out to people: This thing you just said that you present as a fact is actually an experience. It is pseudo factual. You think it's objective, but really it is your subjective experience. And it's that which you want these people or this partner or this team or this manager to be able to relate to. But you don't need to pretend that it is objective fact - it isn't. 
Miriam Meckel: There's an interesting approach by anthropologist Gregory Bateson, who once conceived of "Information as a difference that makes a difference". Applied to the data-driven world it means we think that there is data and there's information we get out of the data. But as you just said, that's just not true because every information just comes into life by the experience we are having with it. The difference a different information makes for me, for example, is a total different one that it makes for anyone here. It's become much more difficult in a technologically driven world to accept that information is always transformed by experience.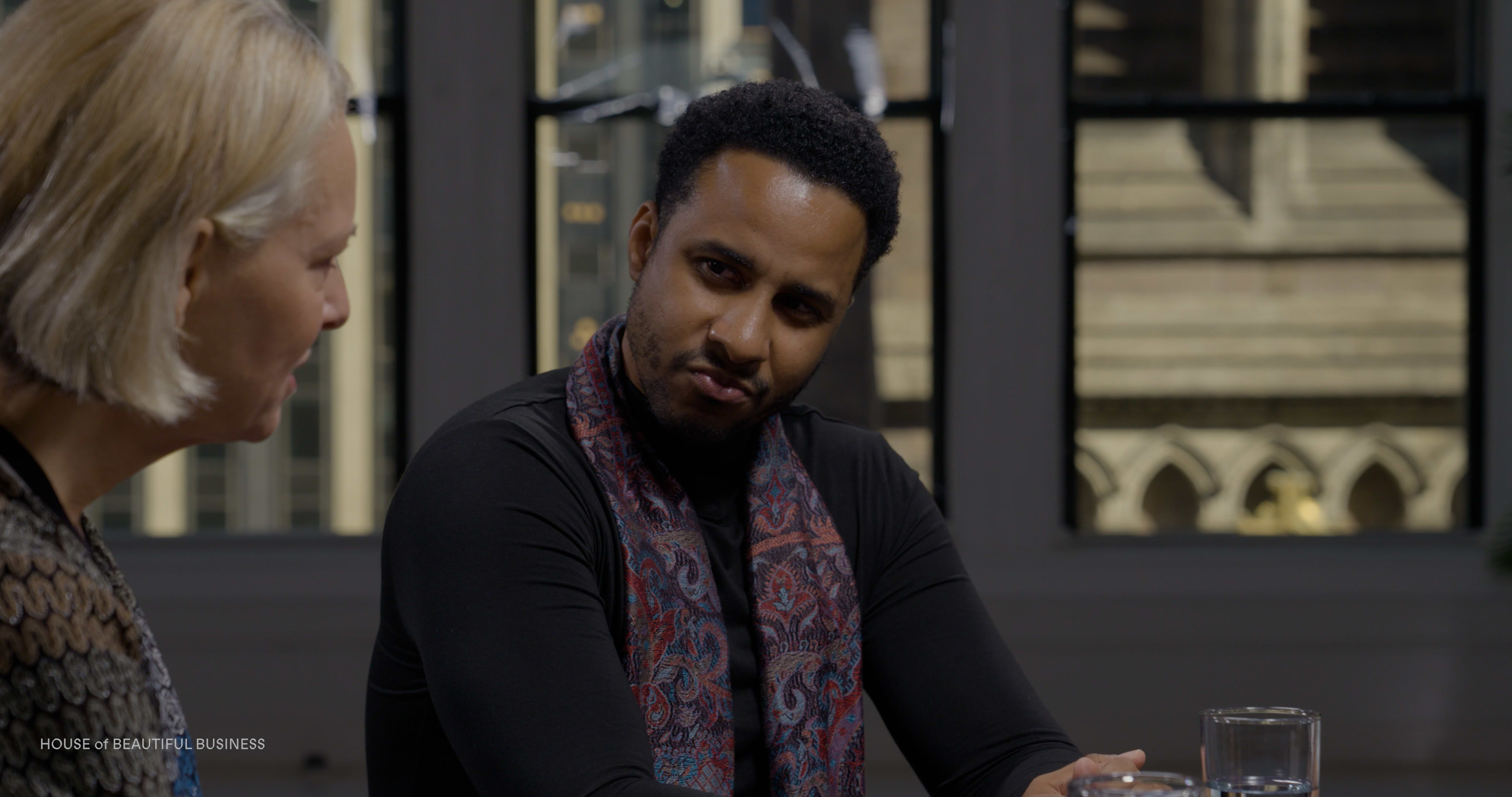 Angel Acosta: There's something about purely rational thinking that closes the world and creates an illusion of the world being static. But the world is so much more fluid and dynamic. How dare you try to box it in such a way? Of course, it's helped us as a society to engage in scientific empiricism, it has allowed us to categorize the animal world, has allowed us to categorize the natural world. But it's cornered us into an extractive relationship with nature.  
How can we change that relationship?

Angel Acosta: I think of reconnecting with our bodies and nature as upskilling, a skill that we need to develop. Part of holding paradox is a somatic phenomenon. It involves the body sensing. You can get overwhelmed from a cognitive place thinking about all the different decisions that you need to make, when your body's an incredible process and entity. So, allow its entire being to help you in decision making, not just your mind, but your heart, even from your feet.
Esther Perel: And we need to be more playful at work. The idea is that children are allowed to play because it's the ground for experimentation, for solutions, for trying out solutions, for creativity, for imagination. And the notion is that for adults, when they play, it's not serious. That's why it seems to clash with the world of work - work versus play. Meanwhile, playful means creativity, options for trying things out, curiosity, active engagement with the unknown, the permission for taking risks. We know that playfulness defined in that way is essential to innovation. It's essential to coming up with new ways that people never considered, because you try them out for size and play offers a container. All of this is highly needed in this moment. Relational intelligence is a serious business.
Angel Acosta: The permission to play facilitates the opportunity to experience awe, to create the container for experimentation, for innovation. Obviously, you get into the conversation around profit when it comes to business: "If we play too much, will this impact the bottom line? Well, in some cases it will..."
Miriam Meckel: It will impact creativity, loyalty to the workplace and productivity maybe even positively.
Angel Acosta: Even positively! And even if it impacts the bottom line negatively in terms of that number below the line, if you juxtapose that to the social fabric of the work environment or the people that you're leading, I'm sure that will be a net positive. So that trade up there is going to be interesting for leaders to make. How do you create room for your colleagues to reach a sense of flow? Because that's when they reach peak performance and thrive.
Esther Perel: Yes, leaders will basically have to create a dual language between productivity and compassion or between profit and meaning. At this moment, there is an entire generation coming into the workforce that wants more than just a fat paycheck or even a small paycheck that pays the bills. They want a sense of belonging, of community, of identity, of personal growth. That is a very new meaning of work. Stuff that people used to look for in other areas of life, in communal life, in religious life is now coming to work. If you're a CEO and you are dealing with retention, which many are doing at this moment at any kind of company, then you need to understand why people are staying and why people are leaving. As a CEO you don't need to be all of those things but you do need to know: What does work mean today? It's not the same as it was 50 years ago.
The pandemic has further changed the meaning of work. What role did technology play in the last 18 months?
Miriam Meckel: We have observed the dual nature of technology. On the one hand, it has brought many positive things. On the other side, I think we can also observe that technology can really wear us down as individuals and communities. Virtual meetings have helped us get through the pandemic but they can be so draining. We can't just make that the new default setting of being in conversation.
Angel Acosta: On the one hand, working in some form of captivity has been really difficult. But at the same time, I've seen an incredible upsurge in intentional communities online. This moment creates a lot of isolation for many. But I've been in spaces where people from all over the world have been able to come together and talk specifically about issues of racial equity, structural inequality. So there is potential.
Miriam Meckel: At the same time, polarization has likely also been exacerbated by technologies in many ways, look at the growing polarization regarding information about the pandemic. So technology is neither good nor bad, nor is it neutral, like Melvin Kranzberg once said, because whenever we use it, we load it with social meaning and psychological meaning for ourselves and for other people as well.


Polarization often precludes us from having an open mind. When have you actually changed your mind?
Esther Perel: I fundamentally changed my mind in terms of racism in the last year. I definitely had this notion that to be a racist is to harbor negative thoughts, discriminatory thoughts about another group or other people. Now I understand it to also mean participating in a system that structurally privileges certain people toward others. That definitely created a very different world view for me in relation to the subject of racism and of which I am myself a product of, you know, Belgian Polish Jewish Holocaust survivor parents. 
Miriam Meckel: For me, up until the age of around 40, I thought that my brain is basically the commander in chief. It's my steering committee and it allows my body to do everything I want. That basically caused me to run into a major depression about 10 years ago, and I really went very deep into the topic of how the the of the human brain and the human body and the soul are connected, just seeing it from a holistic perspective. It was very healing and transformed my personality in many ways.
Angel Acosta: Sometimes there's more distance between our minds and our hearts than there is between us.
Against the backdrop of a global pandemic, consecutive climate disasters, rising inequalities, and increasing influence of digital technologies, it seems like we are entering a great challenge of adaptation: We need to stay grounded while the ground is moving.
Esther Perel: After Hurricane Maria, there were some trees that fell because they couldn't bend and others stood because they were able to bend. Bending, which is somatic, which is movement, which allows you to adapt and redress and come back in a different place, it involves flexibility and nimbleness - and it is actually part of this great adaptation. It's very relevant for all kinds of leaders, including CEOs, while we are all experiencing this great adaptation at this moment: if you can't bend anymore, you break things and as a person, too.