The biological transformation
Leonardo da Vinci was the first bionic scientist in the history of the world. He wanted to learn from birds how to fly. Today, more than 500 years later, bionics has long since established itself. Some even say the next megatrend will be biological transformation.
When Georges de Mestral returned home from a trip in 1941, he made a momentous discovery. Under a microscope, the Swiss engineer examined burdocks that had stuck to his dog's fur along the way. There he saw tiny elastic hooks on the stinging tips of the stubborn fruits. This gave him the idea for an ingenious invention, consisting of many tiny hooks and eyes that connect to each other when pressed together – the Velcro fastener. Nowadays, the sound of a Velcro fastener coming undone is so familiar to our ears that we not longer even register it: "Rrratsch!" Almost everyone is likely to own a garment with the versatile alternative to buttons, zippers and shoelaces, using a mechanism whose origins can be found in the realm of plants.
The Velcro fastener is just one of countless inventions inspired by nature. Bionics, a portmanteau of the two words biology and technology, is an umbrella term for these innovations. Bionics not only inspires practical everyday inventions, but also spurs the development of artificial intelligence. Neural networks, for example, which can learn independently and recognize complex patterns, are modeled on human brains. Today, bionic developments find application in fields as diverse as aviation, medical technology, architecture, computer science and even economics. For some, bionics even represents the next stage of the industrial revolution; the digital transformation is now being followed by the biological transformation. It is hoped that it will provide answers to the huge ecological challenges of the present day.
When Karoline von Häfen talks about bionics, her whole face beams. "Nature simply does it best," says the industrial designer with conviction. She heads a bionics team at the interface between science and business at the Swabian company Festo. The team is the central node of the Bionic Learning Network, which Festo launched in 2006. In it, universities, research institutes and other companies exchange information about their bionic research. Even the network itself is modeled on biology. "Exchange is a central element in nature. How does everything relate to each other? Where are the mutual influences? How do you get ahead in the community?" says von Häfen.
Festo, for example, developed a bionic gripper in cooperation with Oslo University of Applied Sciences. The device is inspired by the tongue of the chameleon. When the reptile wants to grab an insect, it shoots its long tongue out of its mouth like a catapult at lightning speed. As it does so, it curves in the middle in such a way that it can perfectly grab the prey animal. "We made this mechanism a central part of our invention," von Häfen said. The technical replica of the chameleon's tongue works in a similar way: a water-filled silicone cap slips over the target object, allowing it to be grasped. "It's a paradigm shift in automation that we can grab, hold and move many different objects with a single gripper," von Häfen explains. Others of Festo's machines are even already making themselves independent to a limited extent. The bionics team is using artificial intelligence to train robotic hands equipped with touch sensors to grasp objects autonomously.
Festo's idea of the Bionic Learning Network was certainly not altruistic. "Festo's core business is industrial automation. That's why we always strive to create parallels to this in bionics." Based on the chameleon gripper, Festo developed its own product and optimized it for automation processes. Nevertheless, the research and development team still finds enough time to tinker with bionic machines whose applications are not immediately obvious. They have already recreated animals such as penguins, kangaroos, butterflies and ants. "This is perhaps a little further away from the core business. But ultimately we do it out of fascination," says von Häfen.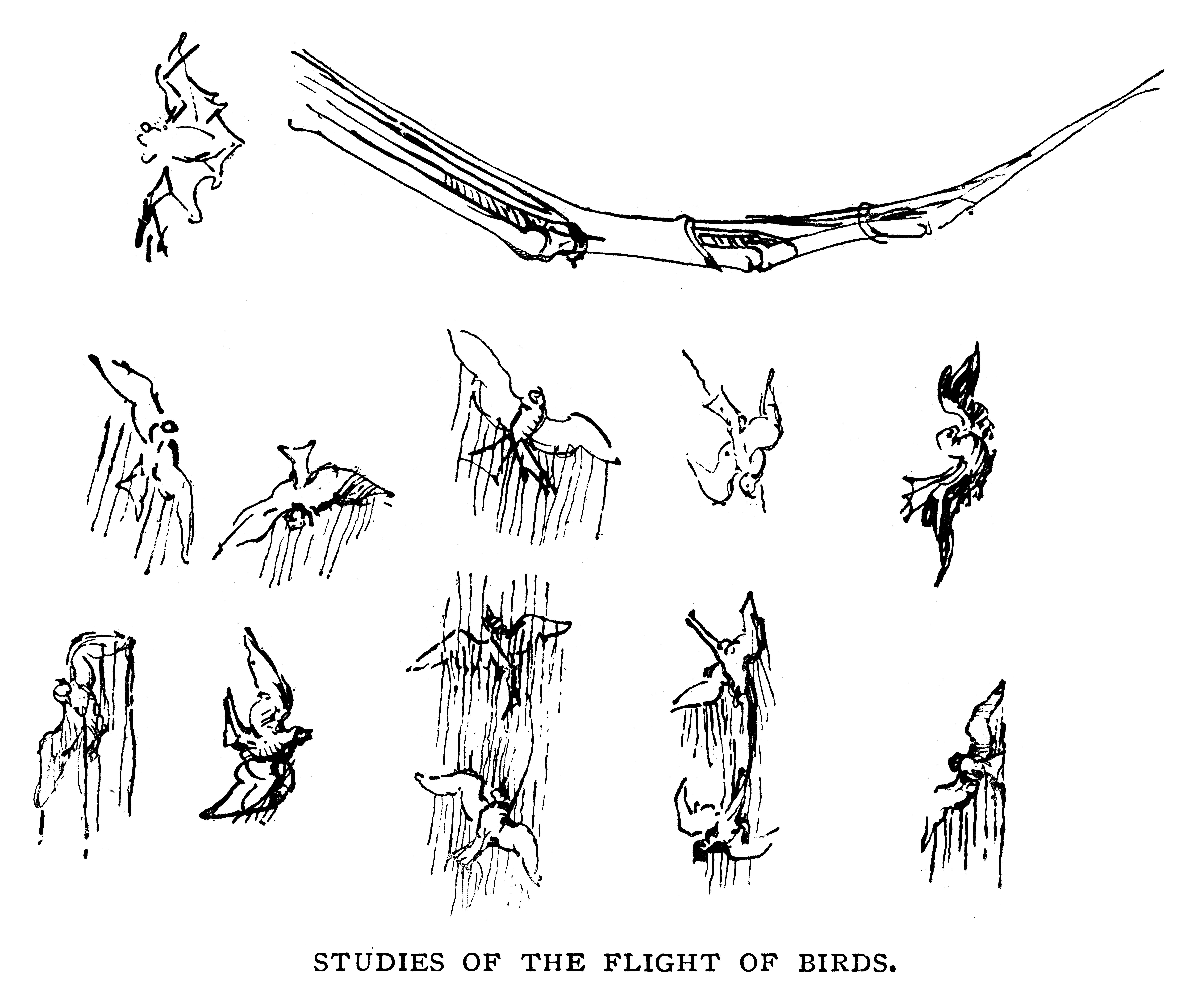 Leonardo Da Vinci's studies of birds. Source: Getty Images
Oliver Schwarz, from the Fraunhofer Institute for Manufacturing Engineering and Automation in Stuttgart, is also fascinated by bionics. "Nature took billions of years to evolve viable organisms and ecosystems," he says. "We can learn something from that." Schwarz and other scientists recognize far more potential in bionics than just for developing technological devices. "We need to think about processes more holistically," Schwarz says. Following this approach, bionics is part of a biological transformation that could provide an answer to the pressing ecological crises of our present day.
The idea of biological transformation is this: Nature has perfected sustainable closed-loop systems. The economy should now learn something from Nature for its value chains. The target state of the biological transformation is a technology-based demand economy. In it, products would be produced exclusively on demand and decentrally in local factories; in addition, thanks to recycling, there would be no more waste. Digital technology and sensor systems would play a key role in such a biointelligent value creation process. They would enable efficient information exchange between biology and technology – both within systems and between systems. Factories, communities and entire cities could thus become sustainable. "The biological transformation is a response to the Fridays for Future movement," says Schwarz.
"Cobbler, stick to your Velcro," you might be thinking. And it's true: Although bionics already has applications in many different areas today, the idea of biological transformation is still a utopia. Like digital transformation, it will come only if it persuades science, politics, business and society. Whether Apple guru Steve Jobs had ever heard of this utopia in his day is questionable. In any case, he was a firm believer in the potential of bionics, once saying, "I think the greatest innovations of the 21st century will be at the interface between biology and technology. A new era is beginning." The future will show whether he is right.
Cover Image: Getty Images