The world is splitting into two power blocs that are separated from each other by technological competence and data sovereignty: China and the USA. But an independent role for Europe in the digital global politics of the 21st century is both possible and necessary. It requires marketable technology, basic digital rights and a new relationship between market and state.
Technology is always political. And just as often driven by economic factors. Which is why two different stories are unfolding in a suburb of Munich and a small town somewhere between Stuttgart and Reutlingen. One of these locales is home to a company called Siltronic that manufactures semiconductors. The other is the birthplace of a company called Dialog Semiconductor that also produces semiconductors. Siltronic's products are in demand primarily among companies and researchers in the field of micro- and nano-technology, while Dialog's are mostly sold to mobile phone providers and automobile manufacturers. But a majority of Siltronic's shares have now been purchased by a Taiwanese supplier, and a majority stake in Dialog Semiconductor has been sold to a Japanese company.
That's the way the business world is run.
The thing is, the companies were two of the last producers of semiconductors still manufacturing in Europe at all. And control over them is now moving to Asia. This is happening at a time when not only German Economics Minister Peter Altmaier (CDU) wants to invest 50 billion euros in preserving the European chip industry, but also when the stage is being set for the next phase of the digital economy. And smart chips are one of the technological foundations for its future.

Another of those technological foundations is smart storage systems like those offered by cloud providers. Demand from European companies is increasing. As are calls for corresponding technology from Europe. But control of these technologies continues to be exported to the USA and Asia. The largest European provider, Deutsche Telekom, trails far behind Amazon, Microsoft, Alibaba, IBM and Google, with a market share of just two percent – in Europe, mind you, not worldwide.
And while Europe's policymakers are trying to resolve the dilemma with a publicly established European cloud called Gaia-X, in which they are in turn also involving American providers, others are already getting down to business. American cloud providers invested a good 12 billion euros in infrastructure and technological know-how from Europe between October 2019 and October 2020 alone. That was not only 20 percent more than in the previous year, but above all significantly more than all European-controlled companies combined.
All this stands in strange contradiction to the grand political narrative. "We want to be able to compete on the global market for key technologies," is how Economics Minister Peter Altmaier describes Germany's technological aspirations. And European Internal Market Commissioner Thierry Breton – one of several commissioners with responsibility for digital issues – says, "We need to make ambitious plans with the aim of being leaders in our key value chains." Jan-Peter Kleinhans, who heads technology geopolitics at the New Responsibility Foundation, is not alone in judging that "The gap between the political narrative and reality in the industry couldn't be wider."

Indeed, the reality is: Europe's companies mostly slept through the first round of digitalization, when initially mostly American and later also Chinese companies began to organize many business models around private customers via the Internet. Everyone agrees about this.
From this, however, another consensus emerged in Germany and Europe: There would be another round, namely the digitalization of industrial business models and processes. And then Europe would have every chance of catching up with the USA and China, and might even turn the situation around. All it needed to do was leverage its industrial strengths from the past, better translate its high-quality research into business models, and perhaps – although the consensus on this point is not as strong – relax the conditions for tech investors and bravely defend its own European values against competition from American and Chinese competition.
Meanwhile, there are indications that all this won't be enough. There are three main reasons for this. There is no longer a division between a consumer Internet and an industrial Internet – on the contrary, the large network providers have collected data on billions of users over the years, which now form the basis for the industrial expansion of their business models. There is also no division of labor in which one party supplies the Internet hardware and the other then sets the parameters for using it – whoever provides the infrastructure also sets the rules. Above all, however, the USA and China have drawn up overall strategic concepts for technological development, and they override issues such as economic policy, foreign policy and the relationship between the state and the market.
Listen to Sundar Pichai's thoughts on how AI and quantum computing will change our world. 
The next technological upheavals


The reason these three points seem so powerful has to do with technological development. The infrastructure for the next state of digitalization has relatively little to do with that of the first phase of the Internet, which is coming to an end soon. There are four areas that will define digital capitalism in the 21st century: 
Data processing by quantum computers
Data interpretation through machine learning or neuromorphic systems that mimic the human brain
Data security through new storage methods
Data transport using new transmission paths such as 6G or satellite Internet.

Unlike in the first phase of digitalization, when one company specialized in semiconductors, a second in software and a third in cable networks or data centers, all these key technologies are now more dependent on each other. Machines can't act intelligently and quickly without quantum computing. Algorithms can't truly act intelligently and quickly without new cloud systems where data can be stored in such a way that the algorithms can draw good conclusions from it. And only 6G or satellite Internet can ensure transmission capacities that can reach intelligently controlled machines anywhere in the world.
How all this is interconnected is currently on display at the German headquarters of IBM in Ehningen, near Stuttgart. A new supercomputer called IBM Q System One went into operation there early this year. Quantum computer researchers are using it to help design batteries and fuel cells, conduct stability analyses of critical infrastructure networks, and test applications and algorithms for manufacturing, R&D, logistics, energy, banks and stock exchanges.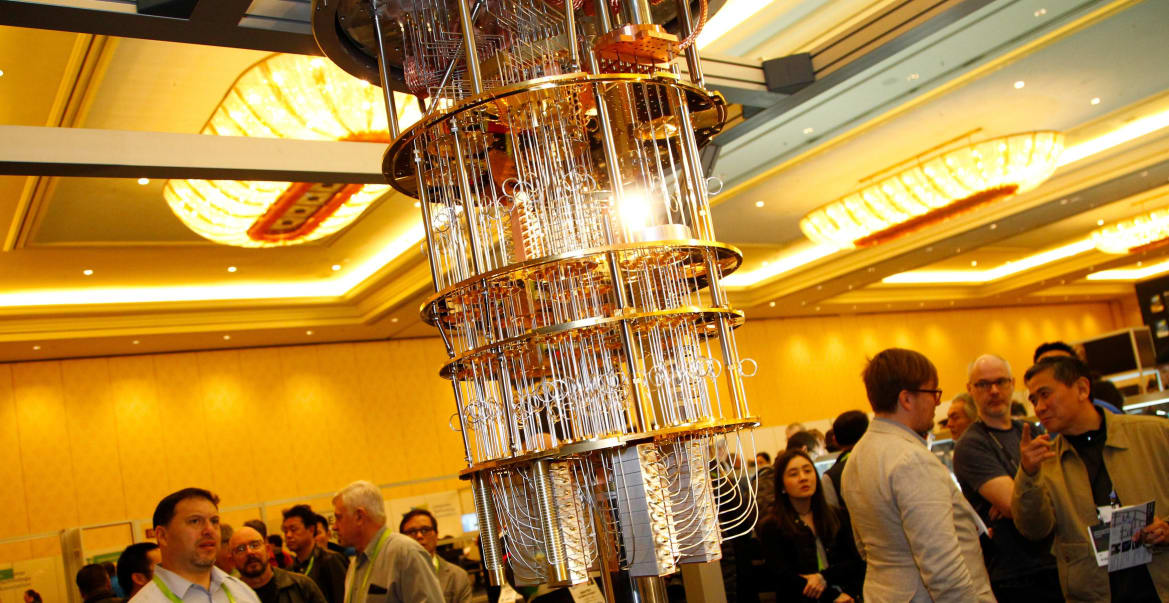 A quantum computer from IBM at CES 2018 in Las Vegas. Source: Imago Images / UPI Photo
Why do we need these experiments with new computers? According to the German Federal Statistics Office, the volume of digital data generated worldwide was 33 zettabytes in 2018. For the year 2025, statisticians project the volume to be more than 175 zettabytes – that's 175 with 21 zeros. The next and so far last unit will be the yottabyte. And that's where our digital society is heading. 
The flood of data is not the only challenge. As dependence on digital networks and data grown, so do the demands on the security and resilience of the digital society. "The answer to these challenges is to develop trustworthy, high-performance and resource-efficient hardware and software," says Albert Heuberger, head of the Fraunhofer Institute in Erlangen. He and his colleague Anita Schöbel from Kaiserslautern are responsible for next-generation computing. Three key technologies play a central role in this field: neuromorphic hardware, trusted computing and quantum computing.
And these new technologies are being used as accelerators, as well as for certain issues with existing computers. For example, neuromorphic hardware is used to generate energy-efficient neural networks for artificial intelligence. Quantum processors are subsequently used for simulation and optimization tasks. In other words: Everything will mesh in the future. 
While Europe is at the forefront of research in these areas, companies in other parts of the world are already commercializing them. Amazon, Alibaba, Alphabet, Apple – all these companies operate division in almost all of these fields. And they are developing them, that much is certain, strategically and with the intention of exploiting them for their own advantage.
The myth of soft power


And that brings us to Roland Busch. Earlier this year he became CEO of Siemens, one of Germany's largest industrial concerns. And if you have followed his statements since then, you might think Roland Busch is actually quite content. A few days ago he said in an interview, "We are in better shape than many people think. In the field of digitalization of business processes and industry, the Europeans are even leading the world."
Siemens-CEO Roland Busch. Source: Getty

He is not concerned about the fact that some American and Chinese companies are more successful in commercializing the key technologies of the future. "In many areas, the technology companies are partners, not competitors," Busch said. "The situation here is not black and white." He also doesn't see the big data conglomerates developing competencies that could outpace traditional industry. "Data experts only see that something is not working. To say what actually needs to be done requires deep domain expertise. That's something the IT conglomerates struggle with."
And even if they don't manage to break into the market because everything is technologically intertwined, Europe could still pass laws ensuring that the use of American IT infrastructures doesn't also lead to an outflow of data. This is reminiscent of the way the European Union has dealt with the big data corporations from other continents in the past. Because Europe has done relatively little to counter them economically, it is trying to do so by means of regulations and market design. European designers like to remind people of the European General Data Protection Regulation. Three years ago it set a European cultural accent against the economic dominance of the United States, and thereby shaped the network economy of the future much more than any business model.
But is that true?
The fact is that no other region of the world has implemented similar rules to date. And what is the actual advantage if technological infrastructure develops independently of agency?
Can we learn from China?


Fabian von Heimburg, a German entrepreneur who has been running a digital company in China since 2014, asks himself the same question. He and a fellow student from his university days founded Hotnest, a company that analyzes what moves Chinese consumers. By observing the online activities of billions of Chinese individuals, Hotnest generates real-time data about their interests and preferences. Companies can launch products, organize their logistics, and sell goods on the Hotnest platform.
A few months ago, von Heimburg established a German branch of his company. Asked how he views the position of Germany and Europe in today's digital world, he sighed before launching into a little rant. "Europe is extremely naive," von Heimburg says. More buzzwords follow, such as "ignorance" and "no self-confidence" in technological matters. "If Europe wants to spread its strong values to the rest of the world, it needs a strong system to do it. But values alone will not prevail without economic and technological power behind them," he says.
Of course, when he compares the technological underpinnings between China and Germany, he sees the definite potential for opportunities. "Europe is strong in science," von Heimburg says. "There are also some good start-ups in quantum computing, and in principle they can keep up with the US and China in terms of scaling. But although they are often even better technologically, I don't know if they will ultimately prevail." He believes that's because there is no "overall concept" in Europe. "China has really built an ecosystem," von Heimburg says. "And it has protected it for as long as it has taken for companies to get big. It's the same in the US. It's not like they just have the better offer, which then prevails in free competition.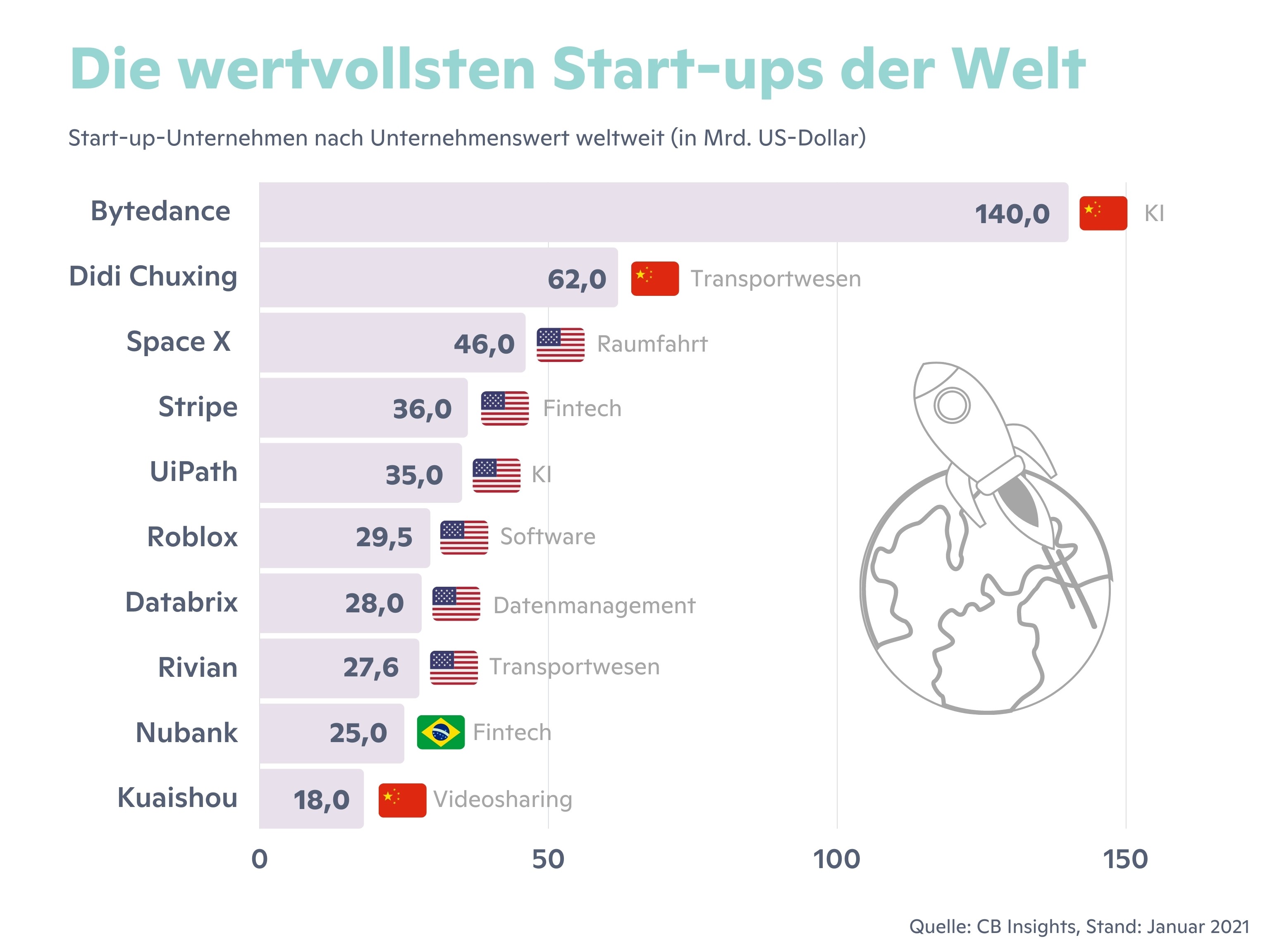 None of the ten most valuable start-ups are based in Europe.
If one follows this logic, China would in principle have copied the approach with which the USA also made its tech sector big. State incentives and intelligent rules, for example for venture capital and data use, are used to promote a tech ecosystem that is protected against competition from outside through market regulation until a few 100-billion-dollar companies emerge. Then, and only then, do they open up the market.
Or to put it another way, it doesn't matter how outstanding the researchers working on quantum computing, neuromorphic computing and trusting computing at Fraunhofer and Max Planck are. As long as they have to come back to IBM in Ehningen to test the practicality of their ideas, they won't make a dent in the supremacy of the USA and China. 
"Europa needs to move away from outdated dogmas of economic policy," von Heimburg says. "At the same times, it needs to place more restrictions on foreign companies. That's not protectionist; after all, that's what happens in other market sectors already." Airbus, for example, only became so big because the aircraft industry in Europe was not left to the free market, but deliberately lock out competition from its American counterpart Boeing.
If you can do that in aviation, why not in the tech sector as well?
Geopolitics, geoeconomics, geodataism?


If we think this idea through to its logical conclusion, a new picture of tech policy emerges. Just as Europe's countries tried in the 1990s in geopolitics and in the Naughts in geoeconomics to safeguard their interests in the world as unitedly and robustly as possible, what is needed now is geodataism – a comprehensive, strategic approach to the digitalization of the economy and government. This includes the strong promotion of existing technologies toward marketable business models; it includes a spirited commitment to both technological and data sovereignty; it includes a digital infrastructure that is designed and developed by Europe's member states according to their interests, and not by the nitpicking details of private mini-competitors; and it includes a market design that defends technological and economic interests instead of outdated ordoliberalism held over from the first half of the 20th century.
Admittedly, from a European perspective, this sounds utopian. From an American and Chinese perspective, however, it sounds like Europe simply copying their successful concepts. China expert von Heimburg remains confident that, "It is not too late." It's just a matter of getting started.
Cover Image: Getty Images