Sexism and Hostility in the Tech Industry – She Is Speaking out Against It
Governments and the industry seldom put Google & Co. in their place. However, some of the tech companies' employees have a different attitude. Take Meredith Whittaker, an expert in artificial intelligence.
In 2006, Meredith Whittaker had just graduated from the University of California, Berkeley, with a bachelor's degree in English literature and rhetoric and was in desperate need of a job. "Unlike my fellow students, my parents didn't have any money," she says, blinking behind her round glasses. It's 10 a.m. on the East Coast, and the perhaps most vocal tech activist is sitting in front of the screen in a black hoodie, explaining she was never one of the tech enthusiasts. "I was broke, I needed work, and Google was the first company to make me an offer." So she started a job with what would soon become the tech giant we know today. This job was in customer service.
On an old website, Whittaker states about herself: "Learns most of what she does by doing it." In the context of Google, this meant teaching herself all the technical skills it took to get ahead. Before long, the woman with the wild curls, usually dressed in black, was working for the search engine giant on net neutrality and privacy. 
On the side, she also founded various internal initiatives, including the Google Open Research Group, which aims to solve complex problems in collaboration with external scientists and open-source activists. When the hype about "artificial intelligence" and machine learning swept the industry in 2013, she did not join the enthusiastic chorus. The Internet was already full of racist comments, sexist forums, and derogatory remarks about minorities. The unmonitored hostility made Whittaker wonder: what happens when an entire industry trains its new marvel technology with this kind of data? And why is no one talking about this?
She decided to use her position within the company to create a counterweight and raise awareness among her fellow employees of the risks of this technology. Together with renowned AI researcher Kate Crawford, she founded AI Now, a research institute at New York University that aims to investigate the political and social consequences of artificial intelligence.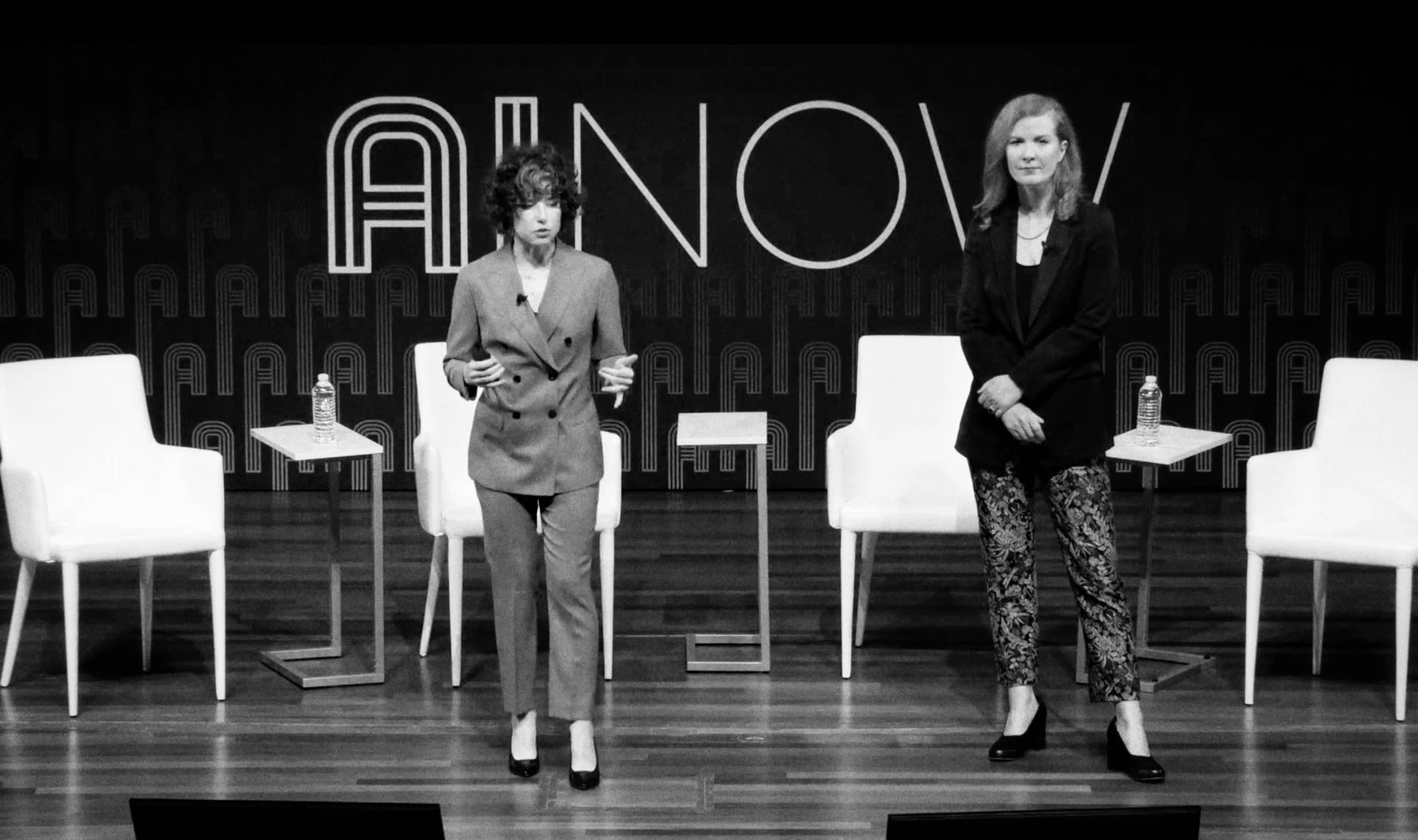 Kate Crawford and Meredith Whittaker at the fourth AI Now Symposium in 2019. Source: Youtube | AI Now
Google, of course, supported the project. It aligned with the company's self-image, with its proclaimed motto of "Don't be evil," and its encouragement of employees to be actively involved and "be themselves." With her expertise and focus on social issues, Whittaker became a model employee, included in and listened to at all key meetings. But then she learned about Project Maven. And everything changed.
Successful but disillusioned

This vague project name refers to a secret military project in which Google developed "intelligent" algorithms for the U.S. Department of Defense. These algorithms were designed to analyze video footage recorded by drones –– and could be used to improve drone attacks in the future. Hardly anyone at Google knew about this, not even those whose work actively contributed to the project. Whittaker did not trust the assurances the project would not be for war purposes. Because in the end, military and economic secrecy clauses made verifying this statement impossible. 
Instead, Whittaker drafted a protest letter in which she called for Google CEO Sundar Pichai to pull out of the project immediately. More than 3000 employees signed the letter in support. A few weeks later, Google announced it would not renew its contract with the government. But despite her success, Whittaker was disillusioned – in her eyes, Project Maven symbolized a fundamental change of direction for the company.
"I realized that my previous efforts had been in vain," she says. While they were discussing ethics and responsibility at meetings, at the same time a military contract was signed. "I had believed that corporate decisions were a matter of making the best argument," she says, pausing. "And I had all the right arguments. It's just that nobody seemed to care about them."
Inspired by protests organized by shuttle bus drivers and cafeteria workers, Whittaker concentrated on building a labor movement. The company, which still pledged initiative and activism as part of its DNA, was the ideal place to start. There was plenty to do. For one thing, there was the censorship-compliant search engine meant to facilitate Google's entry into the Chinese market. There were "shadow" employees whose work was elementary for the company but were almost always underpaid. And there was Android founder Andy Rubin, who was forced to leave the company over sexual assault allegations and then compensated with a lavish $90 million. 
With Claire Stapleton, another longtime Google employee, Whittaker organized the "Google Walkout for Real Change" on November 1, 2018. More than 20,000 Google employees in more than 50 cities walked off the job that day. They were protesting sexism, racism, and non-transparent company culture. Photos from the event show Whittaker in a black leather jacket on a park bench in New York, one hand on a megaphone, and news helicopters circling above the crowd.
Google employees protest at the "Goolge Walkout" on Nov. 1st, 2018, co-organized by Meredith Whittaker. Source: Getty Images 
With the traditional strategies of the working class

The fact that they were using the traditional means of the workers' movement - organizing, demonstrating, protesting - seems almost anachronistic in such a young industry. But it also verifies what both critics of capitalism and economic historians have been saying for some time: the new, dazzling industry functions according to the well-oiled rules of capitalism. Until policymakers introduce efficient guidelines for handling tech companies, resorting to classic working-class strategies remains the most effective method for many. "If you want to take on a billion-dollar company, you have to be loud," Whittaker says, "and you have to be many."
Before the protests, Google CEO Sundar Pichai signaled his support for the action. Afterward, things looked quite different. A few days after the walkout, Google hired a firm specializing in breaking up unions. New policies were introduced that demanded employees refrain from heated discussions about politics and instead focus on their work. Should employees attempt to organize a company meeting with more than a hundred people, this would set off an internal alarm. Of course, those who organized and led the walkout were punished.
The company signaled to Whittaker her position within the company would change drastically and that she would have to leave her job at AI Now if she wanted to continue working for Google. So together with Claire Stapleton, Whittaker wrote an open in-house letter describing her experience – and left her job after thirteen years.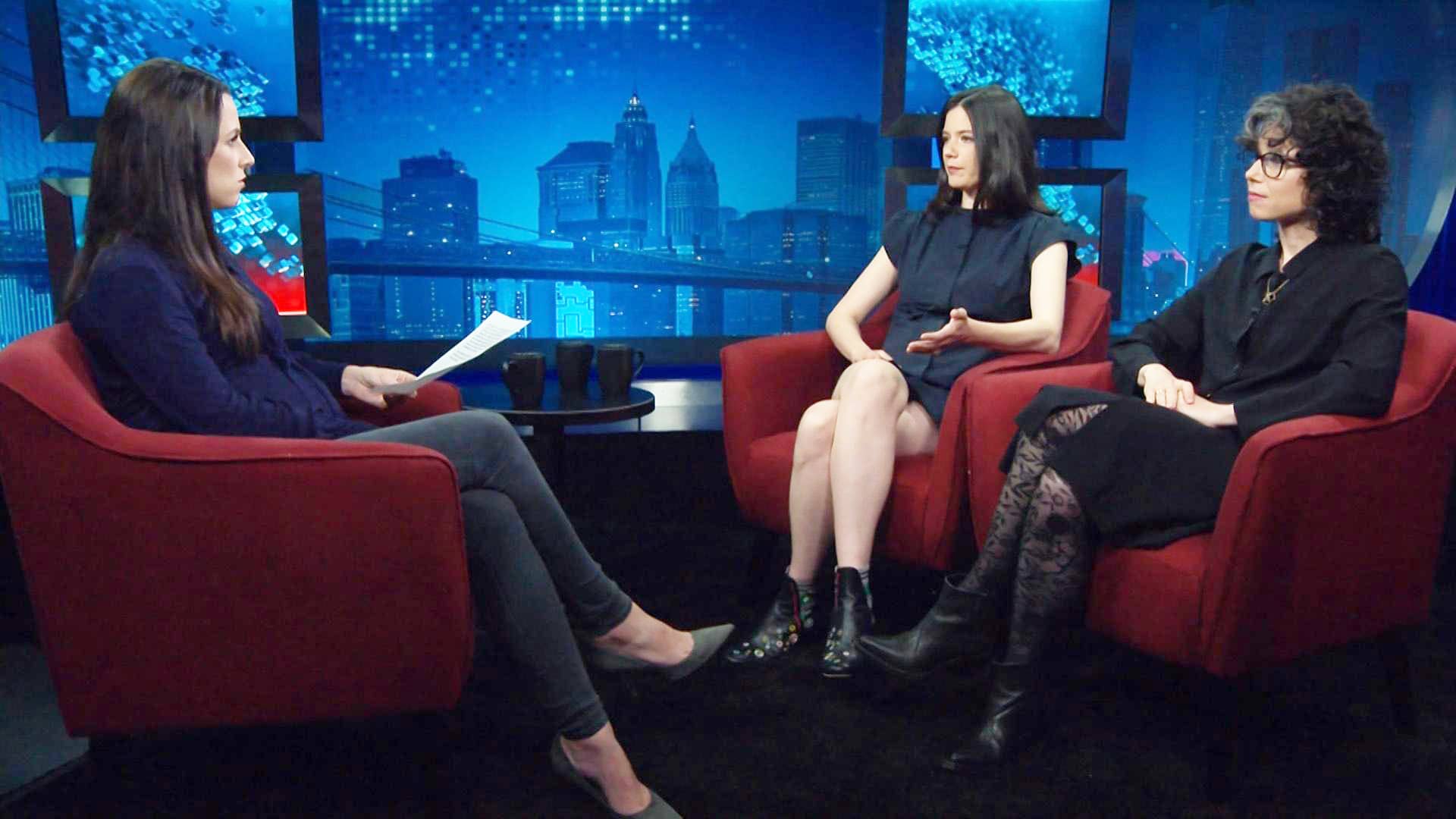 Claire Stapleton and Meredith Whittaker in a PBS broadcast in 2020. Source: PBS | Screenshot
"When you mess with such big companies, you have to know what you're getting yourself into", says Whittaker. Today she is leading the fight against the power structures of tech companies from the outside - as co-director of the AI Now Institute in New York. Under the leadership of Kate Crawford and Meredith Whittaker, the Institute has quickly become an indispensable voice in the emerging AI ethics discourse. They organize high-profile symposia, are interviewed by renowned technology journalists and bring new issues to the forefront and in the newspapers. That Crawford is a widely known AI expert helps. So does the fact that AI Now has a different focus than most other institutes. 
In a field that continues to be dominated by men, the AI Now institute cites the work of those whose voices are otherwise rarely heard: Women, minorities, and People of Color. They focus on questions that only make it into the footnotes of most research papers. For example: Which populations are most affected by algorithmic bias? Which power structures are represented in the technologies? And again and again: How can we support women workers in their struggle for fair working conditions and against discrimination?
Done with unconditional loyalty

The louder critical voices fit into a time in which dreams burst like soap bubbles and, behind the glittering promise of the future, the sticky patterns of the past keep emerging, which can neither be programmed nor theorized away. Or as Whittaker puts it: "We're not protesting because we feel like it. It's because the alternative isn't going to change anything."
Their protest also echoes their disappointment. About the fact that the companies are not as open as the colorful brochures and cozy sofa corners claim. And that they weren't smarter and listened to those without whom there would be no software updates, no new tools, and so far - no public denunciation of internal scandals. Until now, a job at a tech company was always closely linked to the expectation of unconditional loyalty, which in turn was rewarded with generous salaries and flat hierarchies. This dynamic was made possible by a mixture of elitism, tech optimism, and a radical openness often practiced at companies since the beginning of time – a club of the free, surrounded by the chain-link fence of loyalty.

At our Morals & Machines conference in 2019, Meredith Whittaker criticized the opacity of tech corporations developing AI systems.
The fact that company solidarity is being replaced by solidarity toward the employees is also because fewer and fewer find themselves included in this unwritten pact. They ask themselves: Where is the commitment to those who resist the abuse of power, sexual advances, and racism? Where is the courage to act when both victims and perpetrators are known? Why is it mainly women, People of Color, and trans people who continue to be victimized?
Hardly any company seems to be spared from the uprisings. There are movements gaining traction in companies like Apple, Amazon, Netflix, Facebook, and Google, that want to protect whistleblowers and go public with their accusations. Under the hashtag #AppleToo, for example, Apple employees are demanding a change in the company culture. This campaign resulted in the dismissal of those leading the protest movement.
History seems to be repeating itself. With one difference – the protests are getting louder. The protesters are not becoming few, but more. And they are starting to unite. What used to be individual critical voices is now often a cross-company movement. At the end of October 2021, the Guardian published an open letter from Google and Amazon employees demanding an end to their companies' collaboration with Israeli intelligence.
And Whittaker? She has been a senior advisor to the influential Feder Trade Commission since November 2021. There, she is supposed to take care of the issues regarding artificial technology.
Perhaps the companies are not yet ready to hold themselves accountable, but their workers are – and they are just getting started.
This article was originally published in German in the online magazine Republik (translated by Zoë Martin).
Titelbild: Youtube | TIME