"More nuance, less absolutism"
This year's Ada Lovelace Festival was all about quantum technologies. These will turn our world upside down in the years to come ⁠— and not only technologically.
Whether it's a secret criminal organization in a pop-cultural thriller or an innovative flat-screen television being sold as the next new thing, the term "quantum" has stood for an abstract and yet extraordinarily advanced technological vision. It has always sounded a step further into the future than one would dare to dream.
Yet this future has long been within reach: "It's only a matter of time before quantum computing turns our world upside down," said quantum expert and Oxford doctoral candidate Jessica Pointing in her keynote address at the start of this year's hybrid, two-day Ada Lovelace Festival. Under the title "Quantum World," experts discussed the status quo, the opportunities, and the risks of promising quantum technologies.

Jessica Pointing during her keynote at the Ada Lovelace Festival 2021.
Up until now, classic computers have operated according to a binary logic based on units of information known as bits, which are ultimately based on absolute values ⁠— the distinction between 0 and 1. However, in quantum computers, these units of information, "qubits," can assume an infinite number of states. These systems can therefore perform more complex computational tasks in much shorter time.
Conventional computers transform every word, every picture and every sound into an either-or, a series of zeros and ones. Quantum computers will overcome this binary logic, explains @mmeckel at #adaFestival. pic.twitter.com/IzQUopOZYW

— ada (@join_ada) December 8, 2021
In her keynote address, Jessica Pointing used a simple example to demonstrate the significance of quantum computers. If you want to use a computer to calculate which numbers you have to multiply to get a certain 617-digit number as a result, a classical computer will take a billion years ⁠— a quantum computer, by contrast, would only take 100 seconds.
The quantum leap

Considering the recent progress in Artificial Intelligence, the possibility of such a massive increase in computing power sounds almost inconceivable. The accompanying "quantum leap" therefore has immense potential. Computer applications that were once only considered feasible in the tech world's wildest dreams are now seemingly within reach.
In his keynote at the #adaFestival the amazing @whurley talked us through possible applications of #quantumcomputing. He says that quantum computing will help realize true #ArtificialIntelligence. pic.twitter.com/HuLBqPrES2

— ada (@join_ada) December 8, 2021
 
"I believe quantum computing is a prerequisite for the development of real Artificial Intelligence," said William Hurley (also known as "Whurley"), the founder and CEO of the quantum computing startup Strangeworks. Yet the term "Artificial Intelligence" is overused. While certain applications are quite useful in the field of automation, they have little to do with actual intelligence, he said. Whurley believes that quantum computers can change just this — not least because their computational logic is much more like the human brain than that of traditional computers.
Dreams know no limits

Problems whose complexity has so far simply overwhelmed the capacities of classical computers could thus become solvable in the future. Just as impressive are the many possible applications of this technology. In theory, almost anything seems possible, from the development and research of new medicines, and in particular vaccines, to more precise weather forecasts and stock exchange predictions to perfect real-time language processing and unhackable data protection.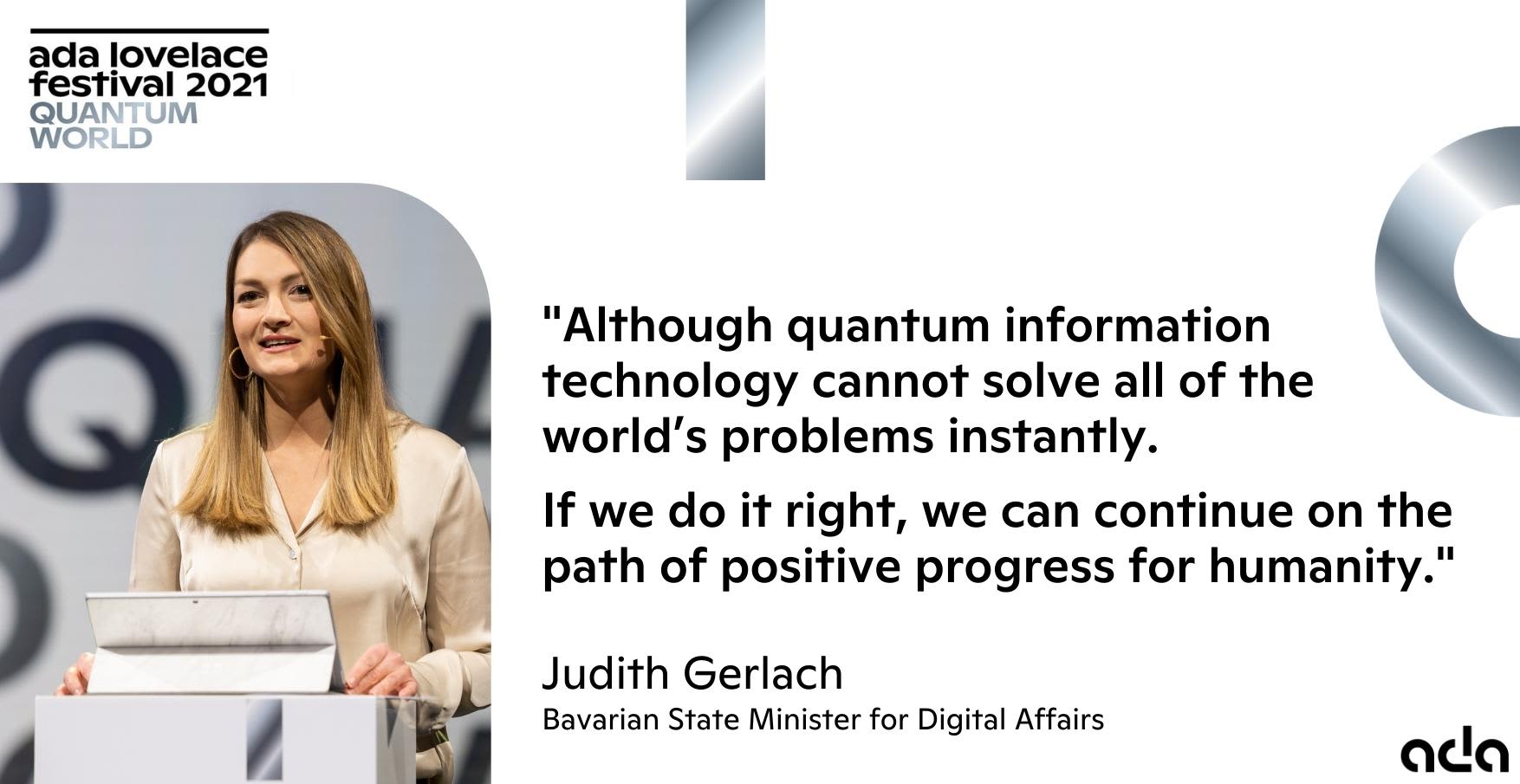 The dystopian TV series "Devs" even goes so far as to suggest that a super quantum computer will one day even be able to predict the future for the simple reason that it's capable of calculating the complexity of life. This demonstrates that the promise of quantum technologies is fueling bold dreams of the future. Far from science fiction and the current zeitgeist, it's clear just how important it is to think about the different aspects and implications of a future quantum world.
Just how far such dreams may take us and in which spheres of quantum theory they invite speculation was revealed by Avi Loeb, a professor of theoretical physics at Harvard. Speaking with Miriam Meckel about future expectations for quantum, he said, "We can imagine that one day, through the scientific method, we'll understand how to combine quantum mechanics and gravity — and that it might then be possible to create a baby universe."
The status quo

But where do we stand when it comes to the development of quantum computing? In recent years, researchers have steadily increased the computing power of quantum computers. Google's quantum processor "Sycamore" reached a groundbreaking 54 quantum bits in 2019, which IBM more than doubled to 127 qubits with its recently unveiled quantum computer "Eagle". And the trend is set to continue: "We plan on 433 qubits next year and over a thousand qubits in 2023," said Jerry M. Chow, director of quantum hardware systems development at IBM.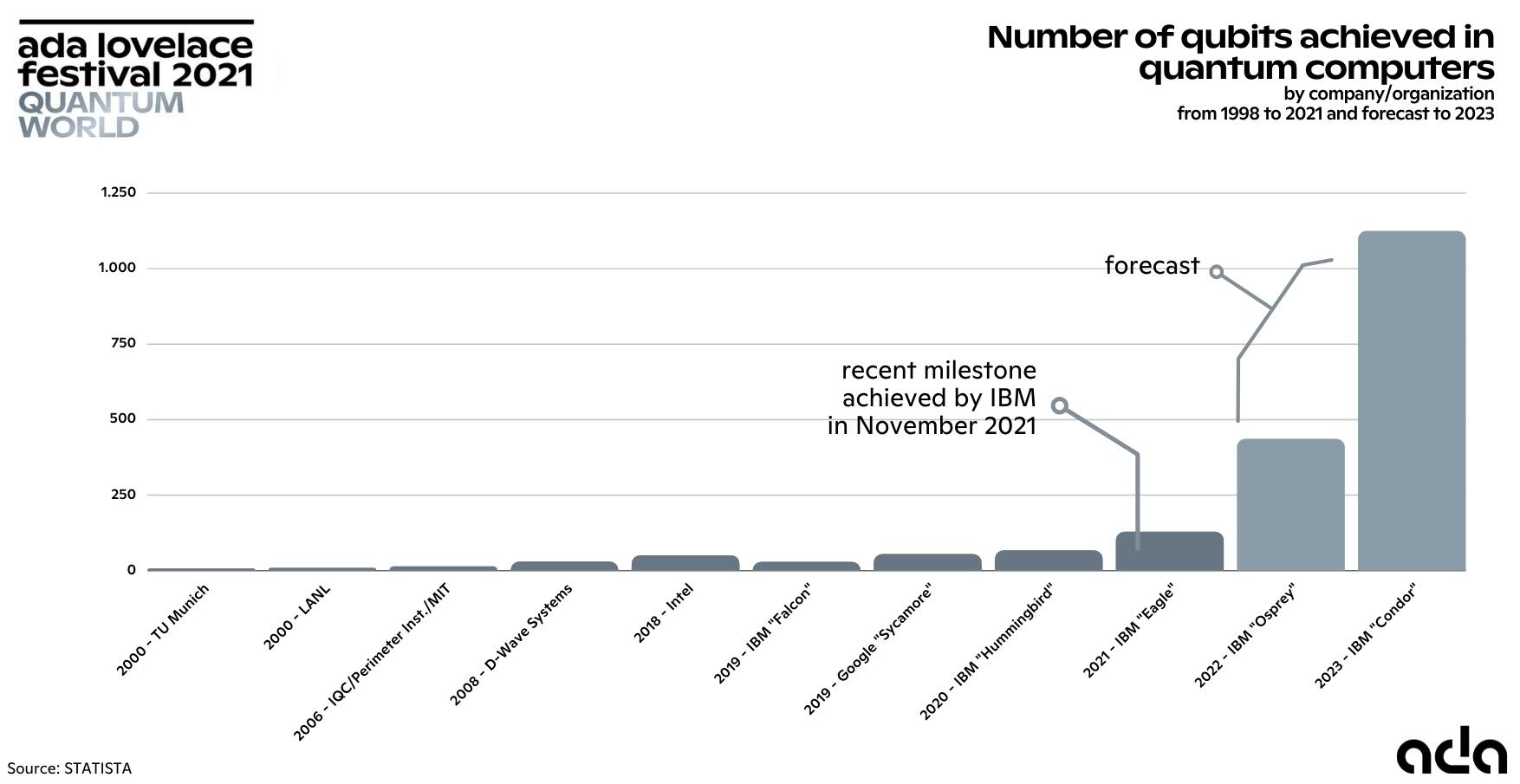 However, today's systems are not yet so advanced as to play a decisive role in everyday life. The technology is still far too expensive and fragile. In addition, although quantum computers can solve very complex tasks very quickly, these are largely very specific mathematical tasks that have no practical application.
In addition to increasingly powerful hardware, there is therefore a need for real-world applications in which quantum computers can make a real difference. This is especially the case in chemistry and materials simulations, as Kitty Yeung, senior quantum architect at Microsoft pointed out. "This could help us develop new catalysts, design better batteries, and address climate change." Yeung emphasized that while quantum technologies aren't a panacea, they offer the promise of real progress in specific fields within the foreseeable future. The quantum revolution could hold the answers, at least in part, to some of today's most pressing questions.
At #adaFestival @KittyArtPhysics gave us insights about #quantum business applications and how the technology could be used to solve real-life problems.@MSFTQuantum pic.twitter.com/UMAUO05mml

— ada (@join_ada) December 8, 2021
The quantum threat


The opportunities offered by quantum technologies are therefore immense. But this potential, and in particular the exponential increase in computing power, also has its downsides. For example, the ability to solve highly complex mathematical problems at lightning speed could become a threat to almost all forms of data encryption in widespread use today.
The U.S. government fears, for example, that hackers could steal sensitive data today that could then be accessed by a quantum computer in ten years' time. "The threat is that they will copy your encrypted data and keep it until they have a quantum computer," says Dustin Moody, a mathematician at the National Institute of Standards and Technology (NIST) in the U.S.
The development of "quantum-safe" encryption methods has therefore never been more important. "Any company that has intellectual property or trade secrets that still need to be secure in five to ten years' time should carry out a risk assessment of its data and its current encryption methods and consider whether there are key areas where it should take action today," said Medb Corocoran, managing director of Accenture Labs in Ireland and an expert in the field of responsible AI on the panel for industry applications of quantum. She emphasized that the "quantum threat" that is frequently mentioned with respect to quantum computing is indeed a serious threat. However, it's a very specific threat for very specific systems, emphasized Natalie Kilber, manager of AI and emergent technology strategy at MHP.

Léa Steinacker, Natalie Kilber, Manfred Rieck and Medb Corcoran in the panel on industrial applications of Quantum.

It's impossible to say how sensitive data can be encrypted in future, but quantum technologies could also play an important role here, explained Natalie Kilber: "We need different types of encryption. For very important data, we could resort to quantum technologies. We can thus reinvent the whole system and add another layer or extend it in ways we have not thought of before."
Independent of the question of whether the existing system of encryption needs to be expanded or completely reinvented, as with many previous innovations, quantum technologies are both part of the problem and the solution — and are ultimately at the center of a change that is not just technological.
Quantum as metaphor

"Technology is not only a medium but also a metaphor for the changes in the world in which we live," said Miriam Meckel at the beginning of the Ada Lovelace Festival. The departure from binary computational logic, as promised by quantum computing, is therefore not only exciting in technological terms. On a societal-metaphorical level, it also stands for real change. Whether it's discriminatory algorithms or echo chambers filled with extremist ideas, in recent years we have witnessed the consequences of being technologically intertwined with the binary black-and-white logic of classical algorithms. Quantum theory presents the opportunity to break down this dichotomy — and even take us one step further.
Quantum mechanics deals with the physical properties of matter the size of atoms and even smaller, which cannot be described by classical physics. What's fascinating about this quantum level is that particles can entangle with each other in a special way, as particle physicist Jessica Esquivel described in her keynote address: "Entanglement is a quantum mechanical property that binds quantum particles together so strongly that you can't describe one without the other. And even if you separate the particles from each other, they remain connected. So much so, in fact, that you can retrieve information about a distant particle by looking at the closest particle," she said.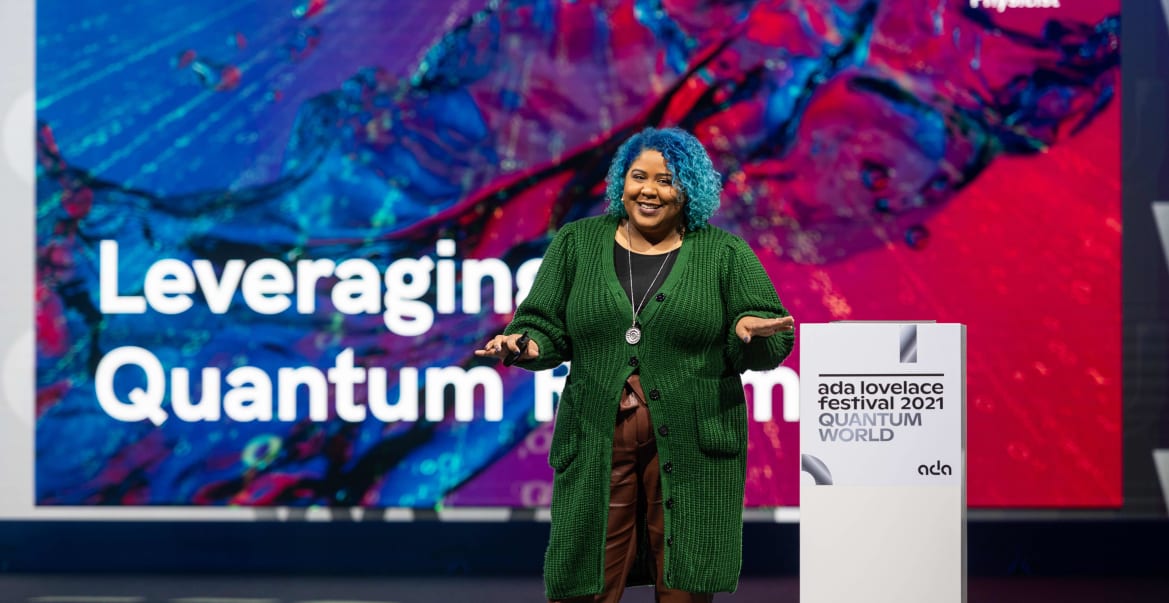 Jessica Esquivel during her keynote at ALF 21.
Two entities so inextricably intertwined that one cannot be fully explained without the other. Suddenly, it no longer sounds like theoretical physics, but like a phenomenon that we all strive for in our lives: Love. 
This same beautiful analogy and connection between the human condition and the quantum state was drawn by poet and artist Cassandra Myers in her moving poem "Quantum Entanglement," which she performed at the end of the Ada Lovelace Festival.
The opportunities opened by the quantum world, not only technologically but also on a societal level, were summed up by Léa Steinacker: "We urgently need more nuance, less absolutism and more tolerance for ambiguity, in order to focus on the positive effects and lessons we can learn even from difficult times."
This sounds more like the utopia we associate with the word "quantum": a step further into the future than many people dare to dream today — a hopeful, desirable future in which technology, society, and culture share a common reality.
Photos: Stephan Floss